We are Manufacturer, Supplier, Exporter of ,Single Phase SSR ( Solid State Relays ) DC To AC Relays and our setup is situated in Pune, Maharashtra, India.
Features
• Direct Control by Integrated circuit.
• Load current up to 200 A.
• Load voltage up to 330/480 VAC.
• Isolation voltage 2500 VAC.
• Zero Less Maintenance o voltage Turn-on, Zero Current Turn-off.
• Fast switching response.
• LED Indicator Showing Relay ON status.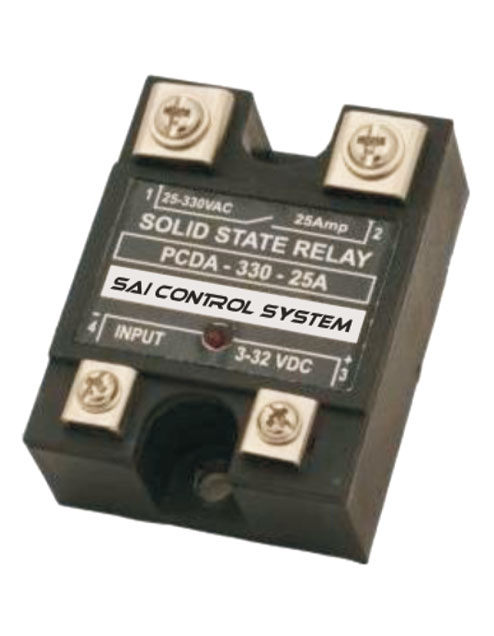 Products Selection Chart
Input Specification

Rated Operational Voltage

Rated operational current AC rots.

10A

16A

25A

40A

3-32VDC

330VACRMS

PCDA-330-10

PCDA-330-16

PCDA-330-25

PCDA-330-40

3-32VDC

480VACRMS

PCDA-480-10

PCDA-480-16

PCDA-480-25

PCDA-480-40
Techinical Specification
Input Specifications
Input Specifications

Type

PCDA - 330/480 - 10

PCDA - 330/480 - 16/25

PCDA - 330/480 - 40

Control Voltage

3-32 VDC

3-32 VDC

3-32 VDC

Input Current

4-16mA

4-16mA

4-16mA

Drop out Voltage

1 VDC

1 VDC

1 VDC

Pick-up Voltage

3.5 VDC

3.5 VDC

3.5 VDC
Output Specification
Output Specifications

Type
PCDA -330/480-10
PCDA -330/480-16/25

PCDA -330/480-40

Load Current

10 A

16/25 A

40 A

Peak Voltage

600/800/1200V Peak

Range of voltage

25- 240/330/480 VAC

25 - 240/330/480 VAC

25- 240/330/480 VAC

Surge Current nonrepetitive t=10ms(ITMS)1

120Apk

160/26Apk

300Apk

Voltage Drop @ Current (VTM)

1.5 VACRMS

1.5 VACRMS

1.5 VACRMS

Max overload Current for time t

30 A (10ms)

75 A(10 ms)

120 A(10 ms)

Holding Current

50mA

70/120mA

250mA

Off-state leakage Current @ voltage - (IDRM)

10 mA

10 mA

10 mA

Max Turn on time

10μs

10μs

10μs

Max Turn off time

10μs

10μs

10μs

I 2T Fusing I 2 T(10ms)

78A 2S

144/340A 2S

450A 2S

dv/dt @voltage (out)

400V/μs

400V/μs

400V/μs
General Specifications
General Specifications

Type

PCDA-330/480-10

PCDA-330/480-20

PCDA -330/480-40

Dielectric strength

Min. 2500 VAC

Min. 2500 VAC

Min. 2500 VAC

Insulation (I/P to 0/P, I/P to case. 0/P to case

4000 VAC rms

4000 VAC rms

4000 VAC rms

Frequency Range

47-63 HZ

47-63 HZ

47-63 HZ

Operating temp.

- 400C to +100C

- 400C to +100C

- 400C to +100C